I have a friend who lives in a builder house in Arizona and every time I see a picture of her kitchen I notice her doors have no knobs and no pulls. I'm not sure if its a regional thing or yet another way for a builder to cheap out and reduce costs. I can't imagine living in a kitchen that doesn't have something to grab hold of to open doors and drawers with.
I thought a little tutorial on knobs and pulls might be in order today. So lets bring on the bling...
In the beginning....
My lovely oak kitchen had THESE knobs when we first bought it. I couldn't get past them looking like buttons on a winter coat from the 1970's. Yeuch.
Knobs and pulls on your kitchen are the jewelry of your kitchen. They are not only pretty, they are functional. You can dramatically change up the look of your kitchen with swapping out knobs or in the case of my friend, just adding some.
Knobs
Knobs can be used on both doors and drawers. Knobs generally are the most cost effective option. I opted for "glass" knobs that came in a builder package I found on clearnace for $8 for 5 knobs. I paid approx than $30 for the 17 knobs I needed.
My doors had been predrilled by the builder for the granny knobs. I stuck with the same holes because of this - yeah no drilling.
If your doors/drawers aren't drilled, you need to decide on where your going to place your knobs. Mine are squared off between the bottom two corners. Easy peasy. The other option is to put them a bit higher on the vertical style. Like
addicted2decorating
did in this pic...
Depending on the style of knob you choose you can lots of different looks...
Drawer Pulls
On drawers, you can use knobs or change it up a little and use pulls. Drawer pulls are great for a grab and go cook like me. My hands are often full and I like having something a bit bigger than a knob to yank. I bought Restoration Hardware Gilmore drawer pulls for my kitchen. They were pricey but I needed far less of them that the knobs. I used them on each drawer and on my pull out cabinet. I love these because they have a very rectangular feel to them. I have to warn you though, the screws that come with these are horrible and break super easily. The grusome details can be found
here.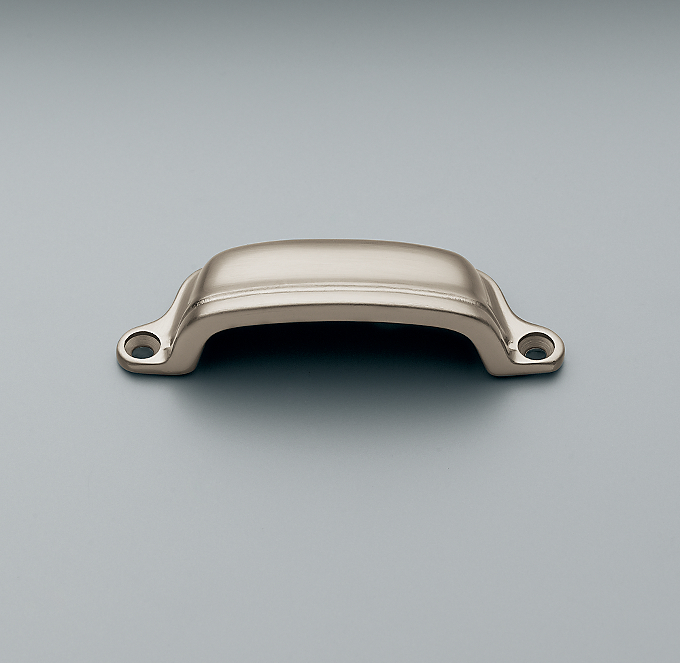 I really love this one that looks like its been around the bend a few times. This could look amazing on a mis-matched island.
Hinges
Exposed hinges are usually found on more modern frameless kitchens which favor hidden Blum hinges instead. If you have exposed hinges, consider chaning them out to match your new hardware. All too often, over time, hinges wear and are often painted over.
As a final note, one of the handiest tools you can have for your knob/pull project is a Fixta $3 hole drilling template from Ikea. This helps people like me who aren't so hot with measuring to get it bang on the first time.